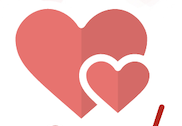 January 2023 Contest: Love
DVR's Art & Literary Magazine
present
Our Next Contest:

Love
WHAT IS LOVE?
Love is a feeling for a thing or person, and a very popular topic for art in all its forms.
There are many different topics on love:
Platonic love

Romantic love

Family love

One-sided love

Toxic love

True love vs. First love

Lessons learned from love

Heartbreak

Self love

Dwindling love

Religious love

Love of things

Etc
This month's contest is open to ALL FORMS OF CREATIVE EXPRESSION:
Poetry

Short Fiction (650 words or fewer)

Short Nonfiction/Personal Essay (650 words or fewer)

Photography

Other artistic expression (Painting, pencil sketches, pastels, watercolor, sculpture, ceramics, etc.)

Short film (5 minutes maximum)

Original music recordings, instrumental or vocal

Original dance performance recordings

Anything else that you see as an expression of your own creativity!
GIFT CARD(S) WILL BE AWARDED TO THE CHOSEN WINNER(S)!
Submission deadline: JANUARY 27, 2023